Entebbe, 14. 11. 2019 (Deutsch) Here we are. Three fresh Muzungus (people of European descent, literally translated it means "someone who wanders aimlessly around", the word Muzungu can be meant in a loving or insulting way) with bulging breast-bags - we had just pulled a million Ugandan Shillings out of the vending machine - and our mountain of luggage is also quite tidy. The people around us earn maybe one or two euros a day. We do not feel really comfortable ...
At least not so many mosquitoes are active. It's still middle of the night and dark. The insect screen is buried deep in our suitcases. We would rather not spread them out extensively here. But soon comes the dusk, the time of greatest mosquito activity. Entebbe lies on a headland in the middle of Lake Victoria. In my mind's eye I can already see swarms of mosquitoes that are about to gnaw us to the bone. Somehow it is noticeable that we have been on our feet for 24 hours without interruption. Still, it would be good if we could tell Eddy to pick us up earlier.
At this point we recognize the limits of our modern communication. We don't have Eddy's phone number. We communicate only on Facebook. But our old mobile contract still has worldwide roaming to 10 kB blocks at 2,39 € or so. The plan was to buy a local SIM card with Eddy's help. Probably the one time call of the Facebook page would cost more than the flight. Yes, the planning is not as perfect as expected. To be more precise, we are just getting the receipt for our European arrogance that in Africa nothing can be on time and everything takes longer. We still have a lot to learn ...
You can also learn from your children. We remember that 10 years ago during our camping holiday in France , they were already on the road constantly to find free W-LANs. The trick also works here. And already after half an hour Eddy and his father are with us. Now everything will be fine. Our bags and suitcases are quickly stowed away in daddy's van, and so are we. It is still dark when we set off for Namaganda in the Kamuli district, about 200 km away.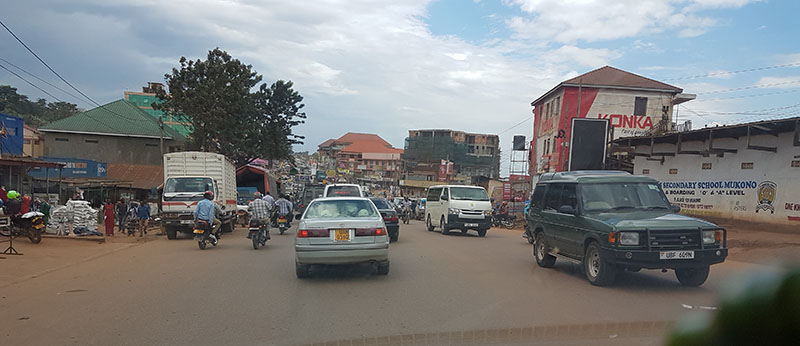 As it is planned in the further course of our journey that we later take a rental car and explore the west of Uganda with the national parks ourselves, I pay very close attention to how to drive in Uganda and what to expect. Eddy hadn't exactly encouraged us in the run-up. He does have a driver's license, but insisted that his father drive us, because driving would be too dangerous in Uganda and his father is a professional driver and the only one he would trust us with. As we reach the outskirts of Kampala and it gets brighter, we slowly realize what Eddy meant. Every few kilometres Eddy asks me if I really want to drive in Ugada myself, and Raphaela confirms that I can't be serious, sometimes underlined by a slightly panicky outcry. I half-heartedly calm down and watch spellbound as Eddy's dad drives around huge potholes and the car is maneuvered between countless Bodaboda motorbikes.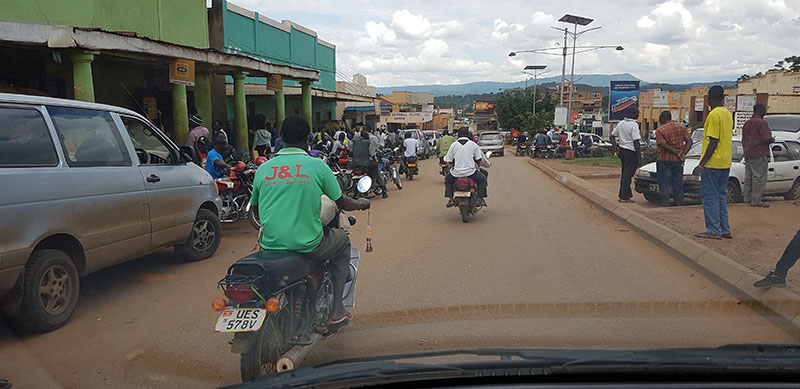 Sleep and rest are not to be thought of, although we have been awake for more than a day now. 1,000 strange impressions are pouring in on us from the side of the road. Besides, we have just as many questions for Eddy and his father. And they explain to us about what we see and have many questions about us and Germany. The photos can't capture what we process in the time.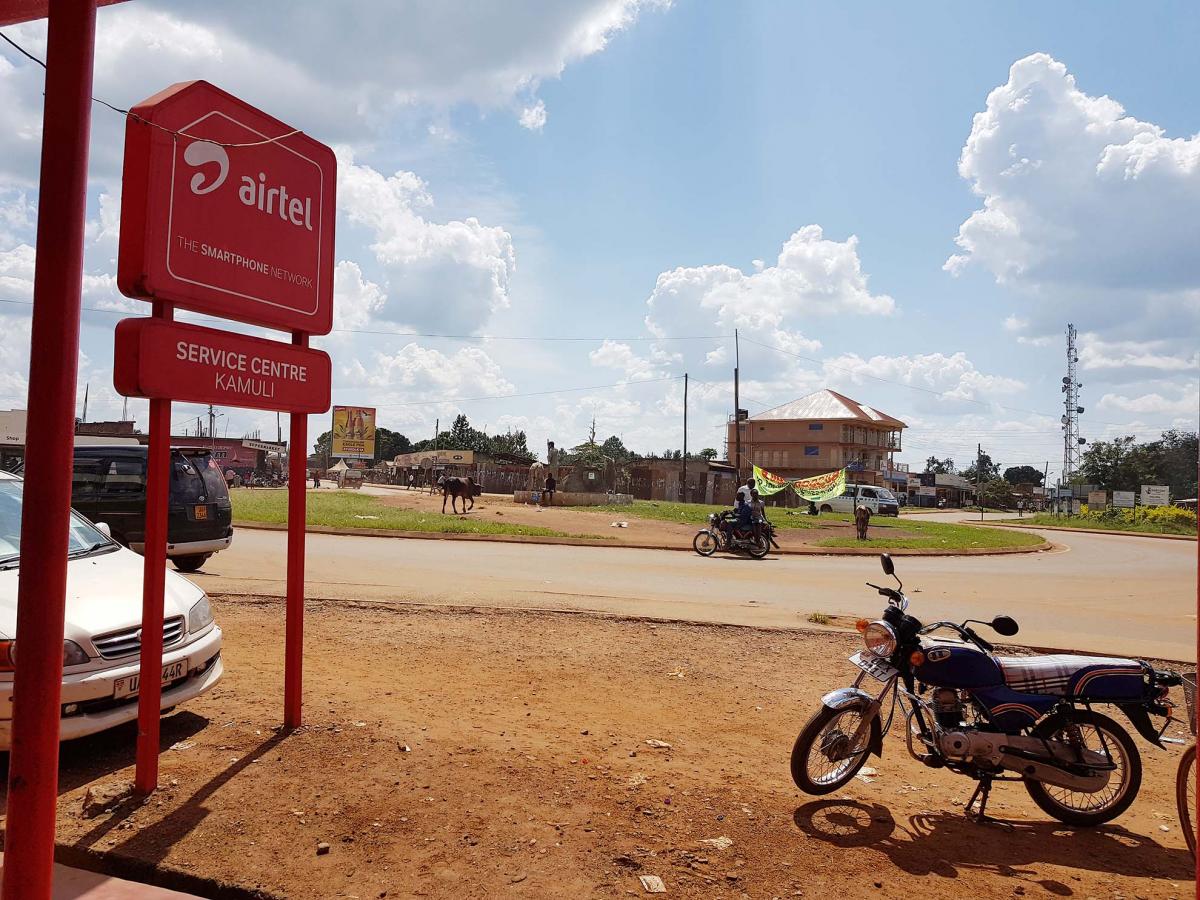 After one day (experienced, three hours in real ) we reach Kamuli, the district capital, at about 8 o'clock in the morning. Here we buy a box of drinking water and get local SIM cards for our mobile phones. The latter turns out to be a small birth, as the many impressions of the flight, the airport Istanbul and the completely strange world of Uganda have already softened our brains and the sleep deprivation does the rest. Thank God we have Eddy on our side, who has a lot of patience for us.
Namaganda and the school are now about 15 km away, but on much more African tracks. The drive there is without any incidents. It is best summer weather and warm. Around 10:30 a.m. we see a sign at the roadside: "VISIONARY LEARNING CENTRE Namaganda".